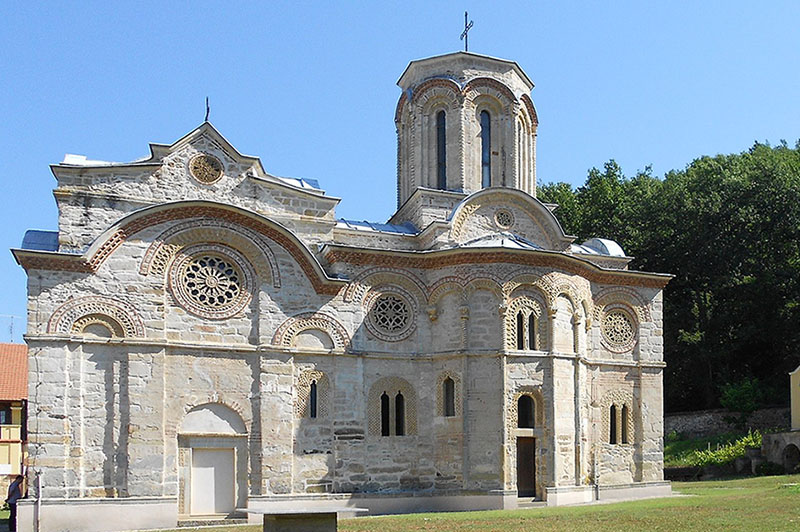 The legends say that the monastery was built on a site where Princess Milica met Prince Lazar for the first time, and that had happened on the day of St Archdeacon Stefan to whom the earlier chapel in the same place had been dedicated. The construction of this foundation by Princess Milica and Prince Lazar started in 1388-89.
After the battle of Kosovo, when Lazar was killed, Milica became a nun, as many widows of the Serbian soldiers did the same.
Architecturally, the church, dedicated to the Dormition of the Holy Virgin, belongs to the Morava School. Its ground plan has the form of a trefoil with a dome resting on four free-standing pillars. It is extended westward into a rectangular narthex with a blind calotte. The facade is embellished with rich muling that edges the doors and windows. A horizontal cordon cornice divides the walls into two zones: in the lower one, there are lancet and two-light windows, and the upper zone is ornamented with rose and wheel windows of unequal size with floral and geometrical patterns. In the threshold stone of the doorway between the narthex and the nave, the name of the "Protomaster Borovic Rade", the famous master-builder, is chiseled.
The church was painted just before the Kosovo battle. The original frescoes have survived only on pendentives, in the lower register of the drum, and partially elsewhere. Especially interesting are the representations of the Old Testament prophets who vouch for the emergence of Christ. Invited by princess Milica, painter Makarije of Zrze came to Ljubostinja in 1403 and carried out all the frescoes in the church. He repainted the frescoes in the dome, only ten years old, and wrote out his name on the arch above the door between the narthex and the nave. The family of Prince Lazar is portrayed on the west wall of the narthex: Lazar and Milica are on one side, and Despot Stefan and his brother Lord Vuk on the other. They are all depicted in their full arrays, with all the insignia of power and dignity. Unfortunately, little has remained of once a vast painted area of Ljubostinja. In the nave, only the Annunciation unit of the whole Festival Cycle has survived. The four best-preserved compositions represent Christ's miracles and sermons: the Healing of the weakened man and the Anointment in Bethlehem above the south-choir door. The three major features of the Ljubostinja frescoes are expressive figures, strong contrast of light and dark, and architectural motifs in the background.