By Tanja Vuleta, 1998
Serbian rulers' ceremonial costume emerged from its Byzantine counterpart at the very moment when Serbian rulers chose to get close to Byzantium, politically as well as in matters of religion. That costume clearly shows the manner in which governmental power was comprehended and considered at the time, while simultaneously being filled with profound religious meaning.
King Mihailo (King of Zeta)
According to this oldest preserved fresco-portrayal, we can establish certain symbols that show that we are dealing with royal ceremonial costume. First of all, there is the crown with its Western characterisics indicating its origin, namely that King Mihailo was crowned by the Pope. Furthermore, the bottom of his robe is adorned with a thick border, and his sleeves with decorative ribbons around the upper arm (peribrahion) and at the bottom edge (epimanikon). Those were elements of the royal ceremonial attire in Serbia in the 13th, 14th and 15th centuries.

Vec prema ovom najstarijem sacuvanom fresko-portretu moze se utvrditi postojanje odredjenih simbola na odeci koji jasno pokazuju da je u pitanju kraljevski ceremonijalni kostim, a koji ce i kasnije, bez izuzetka, to ostati. To je, na prvom mestu, kruna, ovde zapadnjackog karaktera, sto svakako govori o njenom poreklu, odnosno upucuje na podatak da je kralj Mihailo krunu dobio sa Zapada, dakle, od pape. Zatim, tunika je ukrasena donjom sirokom bordurom a rukavi ukrasnim trakama u visini misica (peribrahion) i na donjoj ivici (epimanikon), koji su i tokom 13, 14. i 15. veka krasili vladarsku odecu u Srbiji. .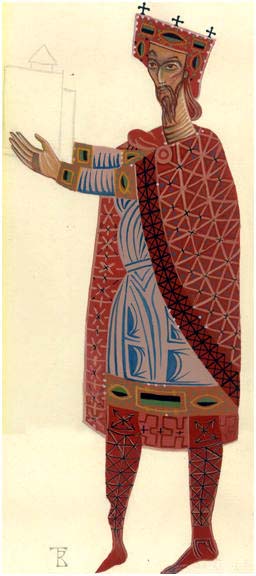 Prince Miroslav (Кнез Мирослав)
Prince Miroslav was the brother of Stefan Nemanja, the founder of the Serbian Nemanjic dynasty. He ruled over a part of the Serbian territory in the second half of the 12th century. This portrayal is valuable testimony of the Serbian approach to Byzantium at the end of the 12th century. The portrayal was made in accordance with Byzantine painting tradition which is most noticeable in costumes that have the characteristics of nobility's attire. Only the red color of the overcoat and luxurious red shoes embroidered with gold string distinctly indicate that this was a monarch. The two-headed eagles in medallions were added in the early 14th century.

Knez Miroslav bio je brat Stefana Nemanje osnivaca srpske vladarske dinastije Nemanjic. Vladao je jednim delom srpskih zemalja u drugoj polovini 12. veka. Ovaj portret je dragoceno svedocanstvo o priblizavanju Srbije Vizantiji krajem 12. veka. Portret je nastao na vizantijskoj slikarskoj tradiciji o cemu svedoci odeca koja ima odlike plemickog nacina odevanja. Jedino crvena boja ogrtaca i raskosne crvene cipele izvezene zlatnom zicom jasno naznacavaju da je u pitanju vladar. Dvoglavi orlovi u medaljonima su dodatak portretu sa pocetka 14. veka.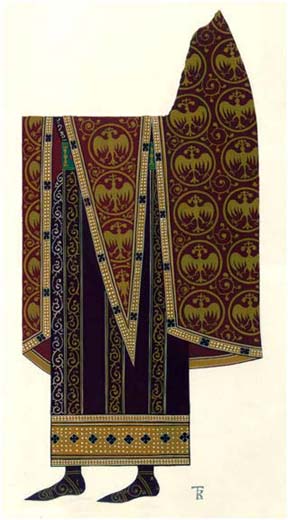 King Radoslav (Краљ Радослав)
This particular rendition of King Radoslav is an excellent example of the transitional phase of the royal ceremonial costume, as it went from noblemen's to royal, in accordance with Byzantine customs. He wears a red tunic and red overcoat like Prince Miroslav, but has a genuine royal crown on his head - the true symbol of his royal status. (Some elements of it did not exist at the time, and were added to the portrayal in the 14th century). Incidentally, the appearance of the two-headed eagle as a symbol of the Nemanjic dynasty can also be traced back to the 1220s.

Prelazni oblik vladarskog ceremonijalnog kostima od plemickog ka kraljevskom formiranom prema Vizantijskim pravilima, naslikan je bas na ovom portretu kralja Radoslava. On poput kneza Miroslava nosi tuniku i crveni ogrtac, ali na glavi ima pravu kraljevsku krunu (kojoj su u 14. veku dodati elementi koje u vreme nastanka portreta nije imala). Ona najrecitije pokazuje njegov kraljevski status. Pojava dvoglavog orla kao simbola dinastije Nemanjic takodje se vezuje za dvadesete godine 13. veka.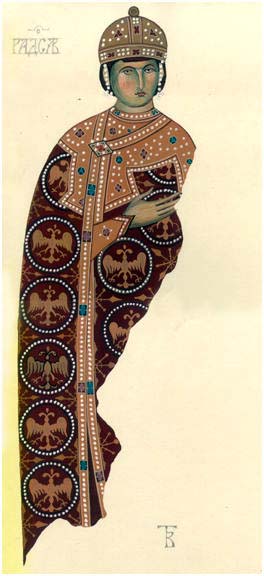 King Uros I and Junior King Dragutin (Краљ Урош I и млади краљ Драгутин)
King Uros I was the first monarch (according to preserved frescoes) who wore the true royal ceremonial suit in accordance with Byzantine customs. The most important symbol of his royal power was the dome-shaped, closed gold crown adorned with precious stones and pearls, with hanging jewels from the side (pendilia). His costume is made of a long, red robe with a decorated border and special sleeve strips embroidered in gold. Other important symbols of royal power are the collar (maniakos) and a ribbon falling over his back and front (loros). The back ribbon has been placed over to the front and the King is wearing it over his right arm. It is worth noting that both his hair style and the long, thick beard are typical characteristics of Eastern culture. Junior King Dragutin's costume is no less luxurious than his father's. The only difference is the crown which underlines the difference in hierarchy.

Kralj Uros I je, sudeci po sacuvanim freskama, prvi poneo pun vladarski ceremonijalni kostim formiran prema vizantijskim pravilima. Najvazniji simbol njegove kraljevske vlasti je zlatna kruna kupolastog oblika, raskosno ukrasena dragim kamenjem i biserima, na celu sa visecim, zvanim prependulije. Odecu cini dugacka crvena tunika ukrasena donjom bordurom, zlatotkanim trakama na rukavima i zasebnim delovima koji su pored krune najvazniji simboli vlasti - kragna (manijakus) i traka koja sa nje pada i napred i pozadi (loros). Ledjna traka je prebacena napred i kralj je nosi preko desne ruke. Interesantno je da su i oblik frizure i duga bujna brada tipicna odlika istocnjacke kulture. Odeca mladog kralja Dragutina ne zaostaje po raskosi i formama za ocevom. Razlikuju se samo krune cime je podvucena razlika u hijerarhiji titula.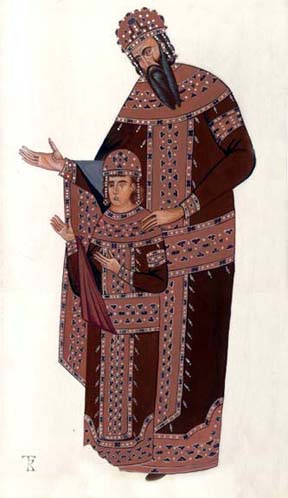 Queen Jelena and Prince Milutin (Kraljica Jelena Anzujska i princ Milutin)
Queen Jelena also wears the royal ceremonial costume according to Byzantine customs. It is almost identical in everything with its male counterpart, only her dress is encrusted with pearls all over. The Queen's crown of the 13th century was shallow and slightly broadened to the top, but was richly decorated similarly to the King's crown. Queens didn't wear veils under the crown in the 13th century. Her son Milutin, slightly clinging to her, is shown wearing a nobleman's costume which distinctly points out the differnce in titles between him and his older brother Dragutin, who was the lawful heir to the throne.

Kraljica Jelena nosi pun vladarski ceremonijalni kostim formiran prema vizantijskim pravilima, koji je po svim delovima identican muskom. Jedino je njena haljina posuta bisernim vencicima. Zenska kraljevska kruna u 13. veku je bila otvorena i plitka, blago se sirila ka vrhu i bila bogato ukrasena bas kao i muske krune. Kraljice u 13. veku nisu nosile velove ispod krune. Njen sin Milutin, nezno privijen uz nju, nosi plemicku odecu cime je jasno pokazana razlika u titulama izmedju njega i njegovog starijeg brata Dragutina, koji je proglasen zakonitim naslednikom prestola.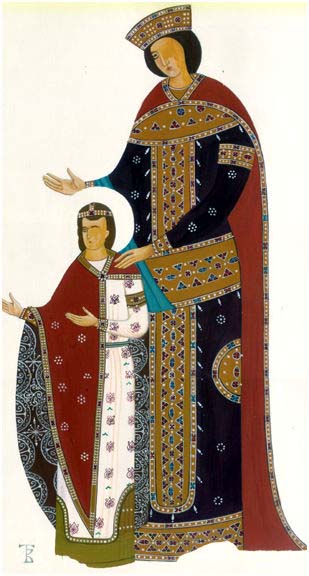 Young Queen Katelina (Mlada kraljica Katelina)
Katelina, the Hungarian princess, married the Junior King Dragutin in the beginning of the 13th century. She acquired the title of Junior Queen by marriage and this portrayal shows her completely dressed in her royal ceremonial costume. However, as there is a difference between the crowns of the King and Junior King, likewise there was a difference between the crowns of the Queen and Junior Queen. In this portrayal, Katelina has her crown made of golden wreath with a head-on ring and red velvet cap. Even though the traces on the fresco have faded completely, it is known that the wreath was adorned with precious stones and pearls and that the cap had small pearl wreaths on it, just like her dress.

Katelina, ugarska princeza, udata je za mladog kralja Dragutina, pocetkom sedamdesetih godina 13. veka. Udajom je stekla titulu mlade kraljice o cemu svedoci i ovaj portret na kome je prikazana u punom vladarskom ceremonijalnom kostimu. Ipak, bas kao sto je postojala razlika izmedju kruna kralja i mladog kralja, tako je napravljena i razlika izmedju kruna aktuelne kraljice i mlade kraljice, pa Katelina na ovom portretu nosi krunu sastavljenu od zlatnog venca sa ceonim obrucem i crvene plisane (made of red velvet) kape. Venac je, mada su tragovi na fresci vremenom potpuno izbledeli, bio ukrasen dragim kamenjem i biserima, a kapa vencicima od bisera, bas kao i Katelinina haljina.
Queen Katelina (Kraljica Katelina)
After King Dragutin's formal abdication and division of power with his brother King Milutin in 1282, the importance of the title owned by Katelina was diminished. The costume she wears on this portrait reflects this. The painter found a compromise solution by painting an overcoat over Katelina's dress and making the loros (as the most important symbol of royal power after the crown) a decorating ribbon on the overcoat and a ribbon protruding under the overcoat, leaving us wonder whether it is loros at all, and thus whether this is the present Queen or not. The new detail on this portrayal is the colorful veil on her head under the crown and the new crown model, now higher and with cogs on the top.

Posle podele vlasti 1282. godine izmedju kralja Dragutina i kralja Milutina, znacenje titule kraljice koju je do tada nosila Katelina je umanjeno. Upravo to nam govori kostim koji ona nosi na ovom portretu. Slikar je nasao kompromisno resenje slikajuci ogrtac preko Katelinine haljine i deleci tako loros - posle krune najvazniji simbol kraljevske vlasti, na ukrasnu traku na ogrtacu i traku koja viri ispod ogrtaca ostavljajuci nas u nedoumici da li se tu uopste radi o lorosu, dakle o aktuelnoj vladarki. Novina koju nosi ovaj portret je sareni veo na glavi ispod krune i novi oblik vislje zenske krune na cijem se vrhu pojavljuju zupci.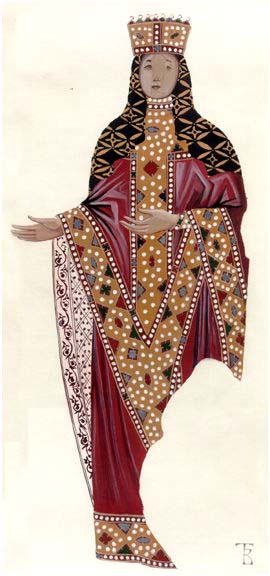 King Milutin (Kralj Milutin)
The reign of King Milutin (1282-1321) coincided with the economic and cultural blooming of Serbia, the conquest of new territories and great prosperity in relation with the Byzantines. Therefore, the marriage of the Byzantine princess Simonida to Milutin was not unexpected. Their portrayals were made during the first two decades of the 14th century and show all the luxury and beauty of the royal ceremonial costumes of that period. The crowns and some parts of their costume were arriving straight from Constantinople, and it is no wonder therefore that we find a big, round precious stone encircled with pearls (orphanos) - the most important symbol of Imperial Byzantine power - on the top of Milutin's crown.
Period vladavine kralja Milutina (1282-1321) vezan je za ekonomski i kulturni procvat Srbije, za osvajanje novih teritorija i neosporno jacanje u odnosu na Vizantiju. Zato nije slucajna udaja vizantijske princeze Simonide za Milutina. Njihovi portreti nastali tokom prve dve decenije 14. veka pokazuju svu raskos i lepotu vladarskih ceremonijalnih kostima tog perioda. Krune i pojedini delovi odece su stizali pravo iz Konstantinopolja (Constantinopolis), pa nije ni cudo sto se na Milutinovoj kruni pojavljuje najvazniji simbol vizantijske vlasti - veliki okrugli dragi kamen okruzen biserima (orphanos) na samom vrhu krune.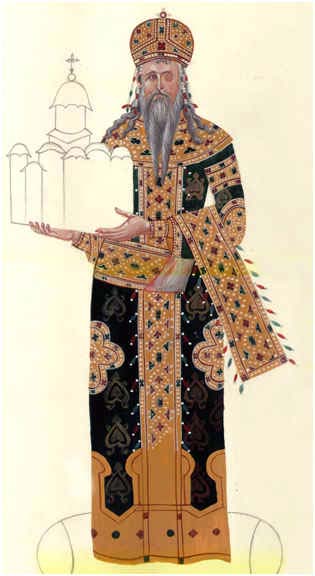 Queen Simonida (Kraljica Simonida)
The changes on the female royal costume are very noticable. Simonida has the new style dress with long funnel-like sleeves and cut out of a colorful fabric for the first time. The veil is richly decorated with precious stones and pearls, the crown is even higher and she also wears luxurious earrings. She holds a golden scepter that looks like a bough. The portrayal of Queen Simonida in Gracanica is very unusual in that she has no loros, which indicates that the fresco was done after the death of King Milutin, and before Milutin's son Stefan Decanski came to power.

Promene na zenskom vladarskom kostimu su upadljivije. Simonida nosi novi tip haljine koja ima dugacke rukave u obliku levka i koja je po prvi put sasivena od desenirane tkanine. Veo je bogato ukrasen dragim kamenjem i biserima, kruna je jos vislja i otvorenija, a pojavljuju se i raskosne mindjuse. U ruci nosi zlatno zezlo u vidu grane. Gracanicki portret kraljice Simonide je neobican jer ona na njemu nema loros sto govori o tome da je portret nastao posle Milutinove smrti, a pre preuzimanja vlasti od strane Milutinovog sina Stefana Decanskog.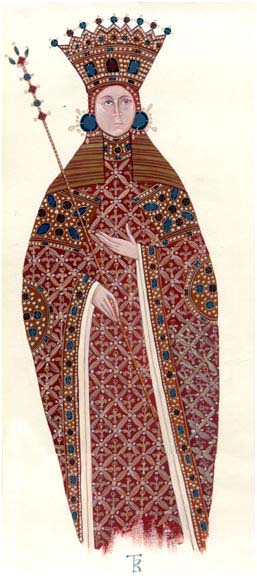 Queen Jelena (Kraljica Jelena)
How much nobility during Dusan's reign in Serbia (1331-1355) honored their king is evident from the example of this portrayal of Queen Jelena, King Dusan's wife. She wears imperial ceremonial attire, even though she was only a Queen at the time. The elements of the imperial costume are hairnets instead of the veil and a back ribbon of the loros which does not hang over her arm but is pinned from the bottom up to the top making an impression of her holding a shell or a shield. The wearing of this kind of dress was made legitimate after the year 1346, when Jelena had become the Empress.

Koliko su plemici iz vremena Dusanove Srbije postovali svog kralja pokazuje ovaj portret kraljice Jelene, Dusanove zene, na kome ona nosi carsku ceremonijalnu odecu iako ima titulu kraljice. Elementi carskog su mrezice za kosu umesto vela i ledjna traka lorosa koja nije prebacena preko ruke vec je napred zakacena odozdo navise dajuci oblik skoljke ili stita. Ovakvu odecu Jelena je zaista nosila od 1346. godine kada je krunisana za caricu.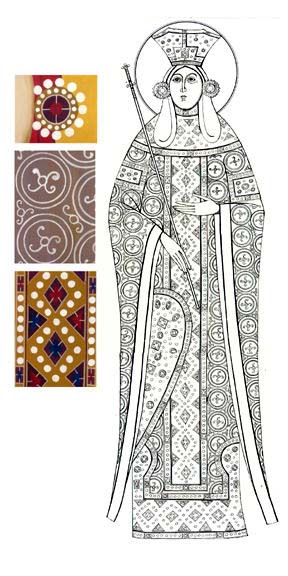 Queen Jelena and Junior King Uros V (Kraljica Jelena i mladi kralj Uros V)
This portrayal of Queen Jelena gives us genuine information about the appearance of a woman's royal ceremonial costume during King Dusan's reign. Actually, there are few differences when compared with Simonida's portrayals. The Junior King Uros V is also wearing suits and decorations identical to those found in portraits of King Milutin. The striking details of the portrayal are the cruciform (cross-like) scepter in Uros' right hand - representing God's power on earth, and the red akakia in his left hand - symbolizing earthly laws.

Kraljica Jelena i mladi kralj Uros V Manastir Decani, pre jeseni 1343. godine (rekonstrukcija, crtez tusem i detalji uradjeni temperom na papiru). Ovaj portret kraljice Jelene nam pruza stvarni podatak o izgledu zenske kraljevske ceremonijalne odece u periodu Dusanovog kraljevstva. Zapravo nema razlika u odnosu na Simonidine portrete. Mladi kralj Uros V takodje nosi odecu i ukrase identicne onim na portretima kralja Milutina. Upadljivo je krstoliko zezlo u Urosevoj desnoj ruci koje predstavlja simbol Bozje vlasti na zemlji i crvena akakija u levoj koja simbolise zemaljske zakone.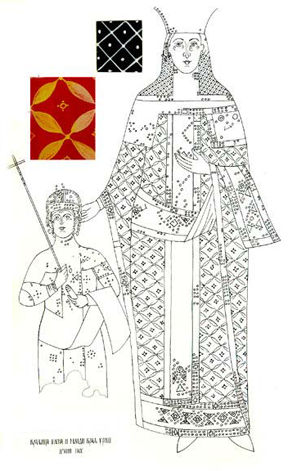 King Stefan Decanski (Kralj Stefan Decanski)
The veneration of King Stefan Decanski, canonized shortly after his death in 1331, is reflected in the patron saint day honoring him (Nov. 24). His father, King Milutin, blinded him for alleged treason, but legend has is that upon his return to the Serbian throne, Stefan's eyesight was miraculously restored by St. Nicholas. The posthumous portrayal in Decani shows a handsome man who continued cherishing the Byzantine tradition of showing his wisdom by wearing a long hair and beard. He has the usual royal ceremonial costume like in Milutin's time of reign. Only his crown was a bit different - it shows combination of round and open crown. The reason for that should lie in the fact that the painting was done after Stefan's death and during the reign of King Dusan, underscoring the difference between the present and former rulers.

Kult velikopostovanog kralja Stefana Decanskog srpski narod i danas neguje slaveci Svetog Mratu. Legenda kaze da ga je otac, kralj Milutin, oslepeo zbog navodne izdaje, ali da je posle povratka na srpski dvor, Stefan ponovo progledao. Posmrtni portret u Decanima predstavlja izuzetno lepog coveka koji je nastavio da neguje vizantijske obicaje pokazivanja mudrosti dugom kosom i bradom, kao i u Milutinovo vreme ustaljen vladarski ceremonijalni kostim. Jedino mu je kruna nesto drugacija - predstavlja kombinaciju kupolaste i otvorene krune, sto moze biti posledica nastanka portreta posle Stefanove smrti, a za vladavine kralja Dusana cime je podvucena razlika izmedju aktuelnog i bivseg vladara.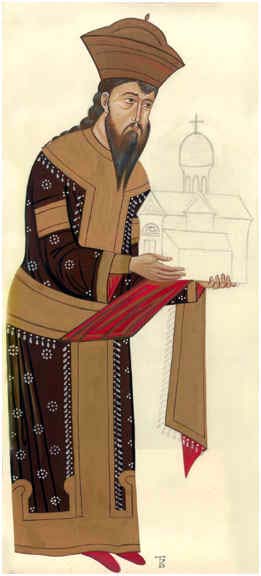 King Uros V (Kralj Uros V)
The portrayal of Uros V in Pecka patrijarsija - the Patriarch's seat in Pec - was made during the short period between the proclamation of the Empire and Dusan's official coronation for Emperor. (With this change, the Junior King was elevated to the rank of King.) It was the time of Dusan's greatest conquests of Byzantine territories, and of a Serbian approach to the West - evident in this portrayal, specifically in Uros' costume. The crown has all the Western characteristics like the crown of King Mihailo from the 11th century. Yet, his robe is a typical Byzantine court robe with hanging sleeves pinned to his belt. The noble character of this costume is represented by a white handkerchief also pinned to his belt which in this case has been unusually fastened over the back ribbon od the loros. It is also intertesting that the robe was made of a colorful fabric - rather uncharacteristic of the monarchs of that time period.

Portret Urosa V u Peckoj patrijarsiji nastao je u periodu izmedju proglasenja Carstva i zvanicnog Dusanovog krunisanja za cara. Bilo je to vreme velikih Dusanovih osvajanja vizantijskih terirorija i priblizavanje Srbije Zapadu sto se izvanredno vidi bas kroz kostim koji Uros nosi na ovom portretu. Kruna je otvorena, potpuno zapadnjackog karaktera poput krune kralja Mihaila iz 11. veka. Ipak, njegova haljina je tipicna vizantijska dvorska haljina sa visecim rukavima zadenutim za pojas. Plemicki karakter ovom kostimu daje bela maramica takodje zadenuta za pojas koji je ovde neobicno zakacen preko ledjne trake lorosa. Neobicna je i desenirana tkanina haljine, sto nije bila odlika tadasnjih vladarskih tunika.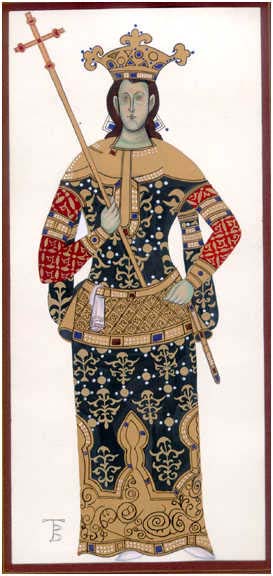 Emperor Dusan (Car Dusan)
At the church parvis, greater than life-size, stands one of the most representative portrayals of the greatest medieval Serbian monarch. He has the imperial crown on his head in its final shape - two semicircular rings intersected and decorated with an orphanos at that point. The loros is crossed on his chest - another symbol of his royal dignity - and he holds the cruciform scepter in his hand.

U priprati crkve, u natprirodnoj velicini, stoji jedan od najreprezentativnijih portreta najmocnijeg srpskog srednjovekovnog vladara. Na glavi nosi carsku krunu koja ima svoj konacan oblik - dva poluobruca na cijem ukrstanju stoji orfanos. Na grudima mu je ukrsten loros - jos jedan znak carskog dostojanstva, a u desnoj ruci drzi dvokraki krst - zezlo.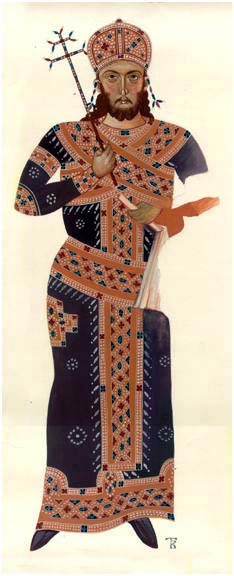 Empress Jelena (Carica Jelena)
Empress Jelena wears a luxurious dress of the customary cut, interwoven with gold ornaments. She holds a golden scepter in her right hand and has all the usual elements of the female royal costume.

Carica Jelena nosi raskosnu haljinu ustaljenog kroja, protkanu zlatnim ornamentom. U desnoj ruci drzi zlatno zezlo a tu su i svi ostali uobicajeni elementi zenskog vladarskog kostima.

Empress Jelena (Carica Jelena)
Almost all dresses of Queen Simonida and Queen Jelena shown on portraits were made of the same fabric - a golden net interwoven on top of a red-colored base. The net is made of golden petals with pearls in the middle. One might conclude that monarchs' costumes were made of very precious fabrics with remarkable longevity. Since there were no big changes in style, queens could have worn a dress for a very long time, and conceivably could have even inherited dresses from their predecessors, given the fact that these were ceremonial costumes.

Taknina od koje su nacinjene gotovo sve vladarske haljine kraljica Simonide i Jelene, sacuvane na portretima, kao da je istovetna - na crvenoj osnovi utkana je zlatna mreza od cvetnih latica u cijem sredistu su nasiveni biseri. Moze se zakljuciti da su vladarski kostimi bili radjeni od skupocenih tkanina koje su mogle dugo da traju. Kako se "moda" nije tako cesto menjala kraljice su mogle dugo nositi istu haljinu, pa mozda cak i nasledjivati od prethodne vladarke s obzirom da su u pitanju ceremonijalni kostimi.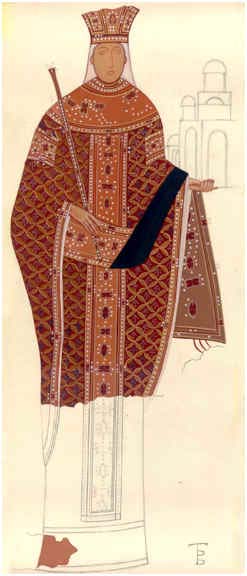 King Vukasin (posthumous portrayal) and King Marko (Kralj Vukasin (posmrtni portret) i kralj Marko)
On these portrayals we find a perfect example of royal ceremonial costume when the monarch was in mourning. The Byzantine - and therefore Serbian tradition as well - was to dress in white in order to express their grief. Therefore, here we find King Marko wearing a white robe, expressing grief for his father who got killed in battle. There is an interesting way of underlining the difference between the former and present monarchs, by the different appearance of the loros. Vukasin has his loros crossed in an old-fashioned way found in the 13th century, while Marko's loros has been crossed according to Czar Dusan's tradition.

Izvanredan primer izgleda vladarskog ceremonijalnog kostima kada je kralj u zalosti, nalazimo upravo na ovim portretima. Vizantijski, a samim tim i srpski obicaj u srednjem veku je bio da se u zalosti za umrlim nosi bela odeca. Otud na ovom portretu kralj Marko nosi belu tuniku u zalosti za poginulim ocem. Interesantno je pokazivanje razlike izmedju bivseg (Vukasina) i aktuelnog vladara (Marka) razlicitim formiranjem lorosa. Vukasin nosi loros ukrsten na starinski nacin kakav srecemo jos u 13. veku, a Marko loros ukrsten po obicaju cara Dusana.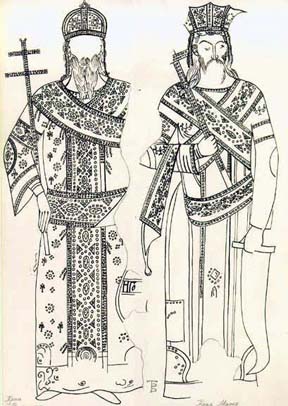 Prince Lazar (Knez Lazar)
After the death of Czar Dusan in 1355, an expanded Serbia found itself divided among noblemen who started fighting for domination. One of the most eminent and powerful families was that of Lazar Hrebeljanovic, soon to become Prince Lazar. Apart from real influence wielded, it was his wife Milica's Nemanjic family roots that gave justification to the couple's appearance in attire with royal elements on the walls of their family endowement, the Ravanica monastery. Nevertheless, there are clear indications that these were not true imperial or royal costumes. An important difference is in Lazar's crown, which is shallow and open here. His robe is colorful, which was not usual for a king's dress. The front ribbon of his loros is not free but pinned to the robe, indicating that it was an imitation.

Posle smrti cara Dusana 1355. godine, Srbija znatno prosirenih granica, nasla se u rukama vlastele koja je otpocela medjusobnu borbu za sticanje dominacije. Jedna od najistaknutijih i vremenom najmocnijih porodica bila je porodica Lazara Hrebeljanovica, kasnije kneza Lazara. Njegova zena Milica vodila je poreklo od Nemanjica sto im je, pored moci koju su osvojili, dalo mogucnost da na portretima u njihovoj zaduzbini Ravanici budu prikazani u vladarskim kostimima poput onih koje su nosili Nemanjici. Razlike su vrlo uocljive i usmerene ka tome da se naglasi da nije u pitanju carski ili kraljevski vladarski kostim. Bitna razlika je u Lazarevoj kruni koja je otvorena i plitka. Haljina mu je desenirana sto nije bilo uobicajeno za vladarske tunike. Prednja traka lorosa nije slobodna vec je fiksirana za haljinu sto pokazuje zapravo da se radi o imitaciji.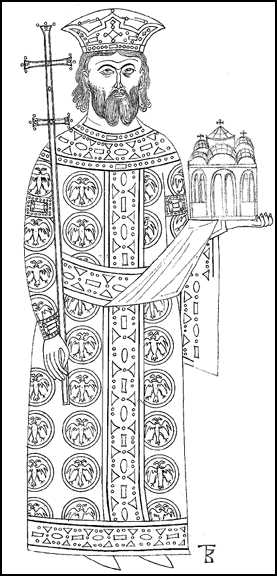 Stefan and Vuk Lazarevic (Stefan i Vuk Lazarevic)
With the dissapearance of the Nemanjic dynasty and disintegration of the Empire, so disappeared the formal title of (Junior) King that signified the crown prince and junior ruler - as is evident from the costumes of Lazar's sons Stefan and Vuk.

Nestankom Nemanjica sa politicke scene Srbije nestala je i titula mladog kralja, sto se vidi po kostimima koje nose Lazarevi sinovi Stefan i Vuk.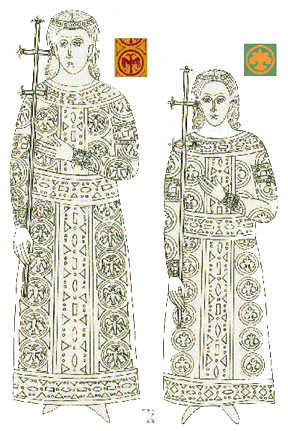 Princess Milica (Kneginja Milica)
Differences found in Milica's costume in comparison with the previous imperial period are similar to those we've seen in Prince Lazar's rendition in the same monastery.

Promene na kostimu Kneginje Milice u odnosu na prethodni carski period su slicne onima na kostimu Kneza Lazara sa njegove slike iz istog manastira.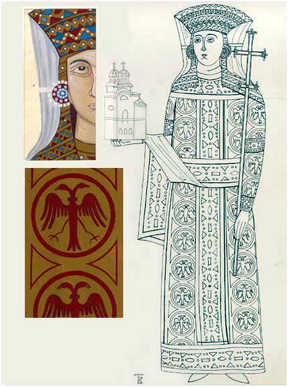 Prince Lazar (posthumous portrayal) (Knez Lazar (posmrtni portret))
Differences found in Milica's costume in comparison with the previous imperial period are similar to those we've seen in Prince Lazar's rendition in the same monastery.

Promene na kostimu Kneginje Milice u odnosu na prethodni carski period su slicne onima na kostimu Kneza Lazara sa njegove slike iz istog manastira.
Princess Milica (Kneginja Milica)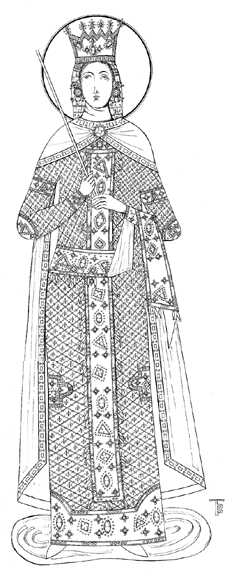 Despot Stefan Lazarevic (Despot Stefan Lazarevic)
The title of Despot was bestowed upon Prince Lazar's son Stefan by a weakened Byzantine Emperor Manuel II just after the famous battle of Angora (1402), which temporarily loosened the Ottoman grip on both of them. The title of Despot, traditionally third in the Serbian and second in the latter-day Byzantine hierarchy, helped him become a powerful ruler in a restored Serbia, after having been a Turkish vassal for some time. The title made it possible for him to wear the round crown on this portrayal, the kind that we see with the monarchs of the Nemanjic family. Still, a sense of measure and respect for the great dynasty obviouly prevailed, as the rest of his attire has the characteristic of a nobleman's costume in accordance with the title he had.

Titulu despota je Stefan, sin kneza Lazara, dobio od oslabljenog vizantijskog cara Manojla II posle cuvene bitke kod Angore 1402. godine. Ta titula, po hijerarhiji odmah posle carske i kraljevske, pomogla mu je da od turskog vazala postane mocni gosodar obnovljene Srbije. Takodje, ona mu omogucuje i da na ovom portretu dobije kupolastu krunu kakvu su nosili Nemanjici. Ipak, osecanje mere i postovanja prema velikoj dinastiji nije izostalo, pa je ostatak Stefanove odece plemickog karaktera sto u potpunosti odgovara tituli koju je nosio.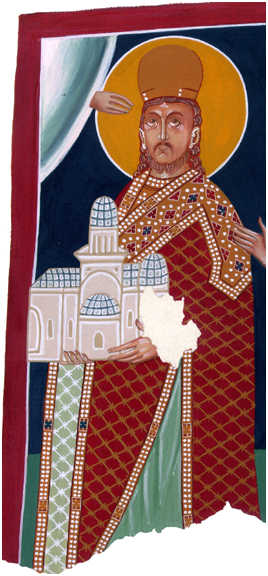 Despot Stefan Lazarevic (Despot Stefan Lazarevic)
After gaining full power in Serbia by defeating his brother Vuk and the rival Brankovic family, Despot Stefan Lazarevic started reformation in Serbia. This process also touched the way people dressed on the court. Heavy and clumsy costumes of the Byzantine world were being replaced by colorful and light patterns arriving to Serbia from Venice. As a great statesman and warrior, Stefan made Serbia stronger, but this last gasp of independence from the Ottoman Empire would only last for several more decades. Therefore, it is not unusual to see him on his last portrayals pictured with a spear and sword, giving his divine and legislative power a trace of military character as well. All other parts of his ceremonial costume still had elements of Byzantine culture, which at that time was living its last moments before the pernicious assault of the Turks. In the second half of the 15th century, Serbian independence and its monarchs were gone for good, and along with them vanished the royal ceremonial costumes.

Izborivsi se za konacnu vlast u Srbiji u sukobima sa bratom Vukom i Brankovicima, despot Stefan Lazarevic se okrenuo reformaciji i obnovi Srbije. Reforme su zahvatile i nacin odevanja na srpskom dvoru. Teske, nefunkcionalne haljine vizantijskog sveta pocela je da zamenjuje moda deseniranih tkanina i lakih krojeva koja je stizala od Mletaka. Kao veliki vojskovodja i izuzetan ratnik, Stefan je i vojno ojacao Srbiju kao poslednji trzaj samostalnosti u okviru Otomanske imperije. Nije stoga ni cudno sto je on na svojim poslednjim portretima prikazan sa kopljem i macem koji su, pored bozanskog i zakonodavnog, dodali i vojni karakter njegovoj vlasti. Svi ostali delovi njegovog ceremonijalnog kostima bili su omaz vizantijskoj kulturi koja je upravo u Srbiji tog vremena dozivljavala svoje poslednje trzaje pod razarajucim naletom drugacije kulture i vere koja je dolazila sa Osmanlijama. Pod njihovim naletom u drugoj polovini 15. veka ugasice se Srpska samostalnost i njeni vladari a sa njima i vladarski ceremonijalni kostim.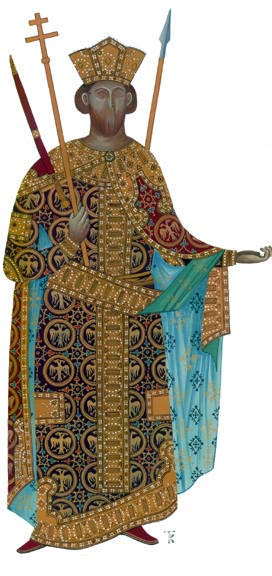 Prince Lazar (Knez Lazar)
Ornament.