Page 8 of 27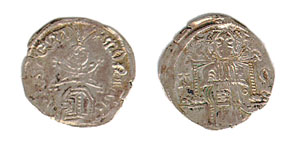 "Helmet dinar". Obv.: Ornamented helmet ("cekrkli celenka"), legend: MONITA REX STEFA (for "Money of King Stefan"); Rev.: Christ enthroned
"Coronation" dinar. Obv.: Standing Emperor with sceptre, crowned by two angels, Cyrillic legend: SF ZR ("Stefan Czar"); Rev.: Christ enthroned, IC - XC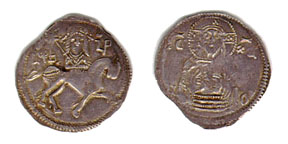 "Horseman" dinar. Obv.: Emperor riding horse, holding scepter with cross; Rev.: Bust of Christ blessing, IC - XC, sigla: N-O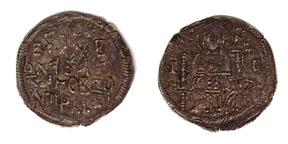 "5-line" dinar. Obv.: Cyrillic legend: STEFAN V HA BA BLAGOVERNII ZR ("Stefan, in Christ our God pious Emperor"); Rev.: Christ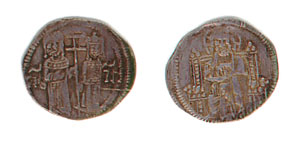 "Two figures" dinar. Obv.: Dusan and Jelena standing, Cyrillic legend: SF ZR (for "Stefan Czar"); Rev.: Christ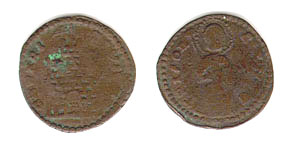 Copper follaro of Kotor. Obv.: St. Triphon, city patron saint; Rev.: City walls, legend: S TRIFON CATARI
HISTORICAL NOTES: The high point of medieval Serbia, elevating the state into a centralized Empire, and the church into a Patriarchy. Territorial expansion was followed by a unified legal system, defined by the well-known Zakonik, or Legal Code (1349). However, Dusan's ambitious achievements started to unravel after his premature death.
NUMISMATIC NOTES: Medieval coins were hammered between two molds, or dies, one each for obverse and reverse. Dies for most Serbian coin types were engraved ("cut") by a limited number of die-cutters. About 10 such masters have been identified for Dusan's coinage. Incidentally, one die would last roughly 10,000 strikes, and would then have to be redone. Often they would wear unevenly and get replaced at different times, resulting in pairs of coins with only one side from a common die, or even coins with sides from different engravers - all of which are powerful numismatic tools.
Since ancient times and until the advent of mass communication, coinage by its very nature served as a powerful means for its issuers - particularly central governments - to disseminate messages, news and propaganda. Accordingly, the important step of declaring an Empire was accompanied here by new monetary issues, including the original "coronation" design, which simultaneously informed about its occurence, as well as its divine (and thus indisputable) nature.