Page 10 of 27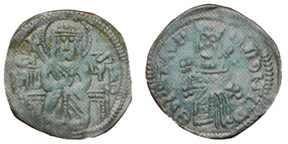 Dinar. Obv.: Emperor Uros enthroned, with sceptre, Cyrillic legend: "US ZR ("Uros Czar"); Rev.: Ornamented helmet with nobleman's head on top, legend: "MONITA DESPOTI IOA".
HISTORICAL NOTES: Throughout Emperor Dusan's rise, Jovan Oliver was one of his right-hand men, whom he elevated upon his imperial coronation to the second-ranking office of despot. Apart from his military experience, documents show his important diplomatic skills. With his Greek wife and knowledge of the Greek language, he exemplified a newer wave in the medieval Serbian state, where the Byzantine court practices and culture in general were being more widely felt.
NUMISMATIC NOTES: Although this issue shows Emperor Uros as the suzerain, similar coins exist with his father Dusan's name. This scarce issue testifies that even during the times of a strong, centralized empire, there was apparently a need for certain regional governors to issue money in their own name (while clearly acknowledging the central state authority) - probably reflecting some peculiar requirements of local circulation.