Page 20 of 27
16-17th c. Dubrovnik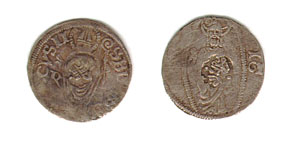 Dinar, mid-16th c. Obv.: St. Blaise, patron saint of the city, legend: RAGUSE BLASIUS; countermarked with city walls; Rev.: Christ standing; countermarked with St. Blaise's head
HISTORICAL NOTES: The times of the most famous playwriter of Dubrovnik, Marin Drzic. Cyrillic Serbian writing was widely used, even for some Catholic religious texts.
NUMISMATIC NOTES: Countermarks were used as a cheap way of "recycling" money - certifying with a stamp that old money is complying with new standards. The one seen here depicts the city protector - St. Blaise (Vlaho), a Greek Christian missionary from Asia Minor that was martyred early in the 4th c.AD.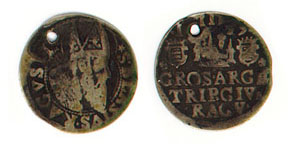 Artiluk (3 dinars), 1635. Obv.: Bust of St. Blaise; Rev.: City view, denomination, coats of arms, legend:GROS.ARG.TRIP.CIVI.RAGU
HISTORICAL NOTES: The early 17th c. in Dubrovnik saw the appearance of Marin Getaldic's mathematical works, Orbini's "Kingdom of the Slavs" - an invaluable account of earlier Serbian history, and Ivan Gundulic's "Osman" - the vernacular Serbian epic that celebrated Christian, Slavic, and Serbian causes in the struggle against the Ottomans.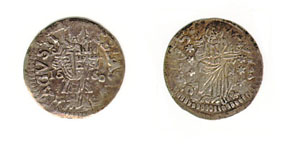 Dinar, 1660. Obv.: St. Blaise, legend: RAGUSE BLASIUS; Rev.: Christ standing, legend: TVTA SALVS
HISTORICAL NOTES: Seven years later, the Great earthquake will deliver a devastating blow to the City, whose competitive trading advantages had already diminished. By then, Jesuit influences started dominating over old Renessaince ones, as did Latin literature over Serbian.
NUMISMATIC NOTES: During the 17th century, the rendition of St. Blaise's attire changed from the original Greek to a Latin one.