Page 1 of 7

In June of 2008, BLAGO Fund went to Kosovo & Metohija to record and archive some smaller churches and monasteries. Radmilo Bozinovic, the author of this story, was with BLAGO for the first time. Beside being part of the crew for the archiving work, this is also Radmilo's personal pilgrimage to an area regarded as a cradle of Serbian identity and heritage, with many hundreds of churches and monasteries from medieval period of Serbian state.
Departure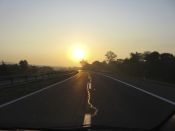 A short and warm mid-June night was gradually turning into a promising, sunny summer day in downtown Belgrade. A rare hour of serenity and calm for this bustling and happening city - sparse loving couples, last night's fun's stragglers, quietly slipping by, the working crowd not out yet - allowed me to sit at the apartment building doorstep and contemplate. I was waiting to be picked up by our group rented van for the annual Blago '08 field trip; it was running a bit late in rounding up crew members around town, which gave me time to reflect. I had been involved with the project since its inception 10 years ago, yet have never had the opportunity to participate in field expeditions so far; this time, the destination was again the historically and politically rich and tumultuous southern Serbian province, Kosovo and Metohija, but was to be packed in a fast-paced 72-hour blitz tour of visiting and recording several less-known medieval monasteries of the area. Nenad had warned me that this is to be an experience quite apart from the usual ones - a 3-day journey across time, space, and perhaps above all, spiritual landscape, far removed from the ongoing urban worries and political wranglings of the metropolitan asphalt. I thought I got the idea, but couldn't help notice the light irony of "how close, yet how far" of these worlds while viewing the characteristic cupola of the Serbian Patriarchy across the street and suddenly realizing that its namesake and titular template (in the town of Pec) is precisely in this mystical and troubled land we are about to visit.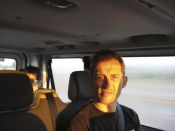 Having been involved with
Kosovo-related
issues in many ways over the years - mostly via the SUC - I have always strongly felt the unseen spiritual bonds and historical ties that legitimately affect in some way most Serbs, giving us the authority to speak out passionately and earnestly on the issue; nevertheless, I knew that in a sense, this is where "the rubber meets the road" - a scientific expedition and fact-finding mission, perhaps, but above all - a personal pilgrimage that I owed myself for quite some time now.
In Jagodina
The crew has been successfully collected, and we finally leave the city limits southbound. Other than Nenad, the original founder and ongoing driving force of the project, there is the ubiquitous Meda - a man of many trades with a lightly sardonic urban wit befitting the troubled times, Sasa - the gregarious SUC technical guy also saddled with many tasks;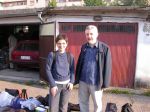 Gordana - our spunky and energetic Byzantine art historian; and her colleague and professor Dragan, with an academic depth and eloquence to be matched only by his faith and organic quest for national heritage. The day is young and everyone is talkative as we dash for our first stop, Jagodina. Nestled in the Morava river valley, 85 miles south-east of the capital along the modern highway, Jagodina is barely an hour's drive away and doesn't yet have that feel of the Serbian "deep South".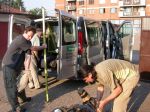 Even though its supporting state-owned industries vanished years ago in the economic "transition", its creative city politicians managed to attract "new money" and maintain a certain level, as attested by the groomed parks, Aqualand extravaganza and even a sizable zoo. Here we pick up key equipment from Nenad's storage space, load up on a classic Balkanic breakfast of "burek" and yogurt, soak in the first tangible rays of the day, and, energized, go our merry way...
Monastery Zica
Heading southwest now, we take a modest detour to Zica, the famed 13-century church erected by St. Sava and rich in both history and art. It is not on our formal itinerary, but almost a must under the circumstances. We take a few outside pictures, marvel the characteristic brick red stucco and the site's beautiful surroundings, gloss briefly over the treasures inside - a glimpse is enough to get a good hint and earmark a more substantive visit sometime in the future.
Monastery Gradac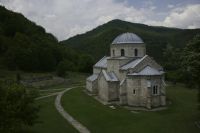 Our final stop before exiting Serbia proper is the medieval monastery of Gradac. Nestled in a tamer part of the mountainous landscape not far from the regional north-south drag we traveled, if offers a quaint and serene atmosphere - with the silvery medieval stone standing out on the backdrop of the luscious verdant hills and pastoral landscape. We needed to deliver some minor supplies to the sisterhood as promised from earlier contacts, and this was a great opportunity to take both archival and less formal pictures of the edifice, inside and out. Visitors do pass buy here - a tactfully supplied gift shop even attests to that - but there are none now, and the atmosphere is relaxed as we are waiting for the abbess to arrive from her quarters. We are welcomed and offered Turkish coffee by one of the sisters, whose enigmatic young face somehow evokes in me parallels with the transcendental beauty radiating from many female countenances in the Biblical tales illuminating certain Serbian monastery walls. Mother superior Efimija soon arrives and quickly engages us, as we catch up on various news. She is still young, her leadership able, manners down-to-earth, highly educated and obviously of urban upbringing. For a moment I even thought I may have once met her in an earlier life. Though unlikely, it does make me wonder what is the story that brought her and others into a life 'in this world, but not of this world'. There may be no simple answer to that, but the fact that monasticism has been flourishing in Serbia in recent years - apparently much more so than in other nations around - made me think for a moment, while leaving a heart-warming feeling of guarded optimism and revival.