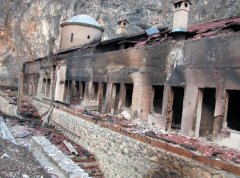 Washington - 04/06/2004 - In the light of recent violence in Serbian province of Kosovo and Metohija, the BLAGO Fund will intensify its efforts to archive the Serbian cultural heritage. While the recently-completed archive of the Monastery Gracanica represents the most complete archive to date, it is only the first from that region. If our nation's cultural heritage, as we are often told, is a pillar and mirror of our identity then we need to take the necessary steps to cherish it and share it with others.
There is no doubt that Kosovo & Metohija plays an important role in Serbian history, both as the birth place of the Serbian medieval centuries thereafter. Many splendid churches and monasteries were built in the region, both by the kings and other noblemen. Some call Kosovo a Serbian Jerusalem, the place where once the seat of the Patriarch was. The Monasteries of Decani, Gracanica, Pecka Patrijarsija, ... are only examples of the rich heritage and legacy rarely found elsewhere, most of them on UNESCO's list of endangered cultural and historic monuments.
Since 1999 more than one hundred (100) churches and medieval objects were destroyed in the province, some of them from the twelfth or thirteenth centuries, most of them older than the United States. More then thirty (30) of them have been destroyed in the recent wave of violence aimed at the eradication of Serbian presence in Kosovo, both physically and historically. The destruction and burning of the cathedral of the Holy Virgin of Ljevish (built in the 14th century) in Prizren, the monastery of the Holy Archangels near Prizren (also 14th century), the Monastery Devic near Mitrovica (15th century), are only the most recent examples of crimes committed not only against the Serbian people, but also against all of world history and humanity.
Destroyed churches and monasteries on March 17th and 18th in Prizren area only:
1. Holy Virgin of Lyevish (14 th c) 2. Church of Christ the Savior (14 th c) 3. Cathedral of St. George (1856) 4. Church of St. Nicholas (Tutic's, 14 c) 5. Church of St. Nicholas (Runovic's, 16 c) 6. Church of St. Kyriake (14 c) 7. Church of St. Panteleimon (14 c) 8. Church of St. Cosmas and Damian (14 c) 9. Church of St. Kyriake, Zivinjane, near Prizren 10. Holy Archangels Monastery (14. c)