Page 3 of 7
Monastery Gracanica
His Grace, Bishop Artemije, is not in town right now - we will have an opportunity to meet with him on our final day - but life in and around the sizable monastery compound is bustling as usual. For this multifaceted institution - ranging from renowned historical monument, through active place of worship, to semi-permanent episcopal seat - this appears to be somewhat of a mixed blessing. The value of being in the midst of a busy settlement with lively resident flock was always clear enough, but the weight this carries becomes evident once you face the reality on the ground. It is an overpopulated and confined enclave, with merchants peddling their wares in numbers right at the compound gate, the underemployed seeking passtime in the mushrooming taverns outside, the underprivileged seeking charity from within.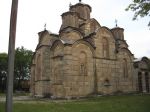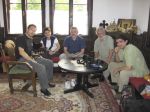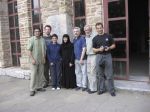 Managing all this - along with the relatively sizable adjoining fields and orchards - is a daunting task for the aging sisterhood and limited civilian help they employ, which is met with mixed success. Nevertheless, as the long summer day finally winds down and its last rays bestow a seemingly divine glow on the edifice, I silently behold this majestic monument, and cannot help but marvel at medieval master Astrapa's gem that inspired copies from Trebinje to Belgrade to Illinois, as well as Rebecca West's poetic account in her famed 'Black Lamb and Gray Falcon'.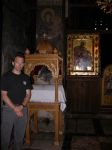 The angle of light, the cupola curves - all were similar to those I had observed at daybreak in Belgrade. Yet, in many ways - it is a world apart... Of course, the Blago team had done the archival recording of Gracanica some years ago, so we take just a short tour of the inside. Still, the rich and potent images that come off the fresco-studded walls - so familiar to me from books and presentations, yet so different and more powerful in their natural, organic setting - are something, like aged nectar, that suffices to be merely sampled this time, to be enjoyed and savored in more depth at a later date... It is dinner time now - we share a lenten-style Wednesday supper with the sisterhood at the monastery's refectory, catch up on the always plentiful news with a couple of the learned monks from the diocesan office, and finally retire after a long day, to the comfortable dormitory we were privileged to enjoy in the episcopal residence.
Church in Lipljan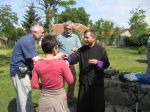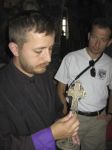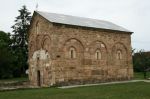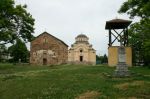 The next day also had an early start, and a long program ahead. Indeed, by the time we settle for the night in Decani, in Kosmet's westernmost Metohija region - we will have crisscrossed the province from most sides - center, east, south and west - and have completed a better part of our task for this expedition. This year's focus is on a series of smaller, less preserved and renowned medieval monasteries, which nevertheless harbor great historic, artistic and spiritual value - not just to the Serbian nation, but to human civilization in general. Sharing this has always been Blago's goal, to be further continued and advanced here. The first in line is actually the biggest of such churches - the old church in nearby Lipljan, affectionately called the 'Mother of Gracanica', once the seat of an early medieval bishopric. Lipljan is today a small urban center - not far from Gracanica itself, but characteristically disjoint by an Albanian settlement. An almost entirely Serbian-populated town prior to the 1999 invasion, it is now ethnically divided, with the Serbian quarter much diminished, and gathered around the centrally located and relatively spacious compound that houses a modern 20th century church, the pastoral residence and some other edifices in addition to the standing medieval one. Our crew promptly sets up and begins work, as I get to converse with the locals - the young and energetic priest and a couple of gardeners and wardens working on the compound that day. At some point our conversation is interrupted by the rumble of portable generators, as there was apparently a 'random' power out, and these devices are the ubiquitous hedge against the ongoing systematic power-distribution blackmail of Kosovo Albanian authorities.
Our crew can finally go on with filming, and I continue the impromptu interviews. My colocutors are almost invariably former state employees and longtime local residents. Their tales are usually calm, not bitter - but they do have enough to share. A couple of hours later, as we all take a break and gather with young Prota and Protinica at the picnic table over sarajevski burek, yogurt and plum brandy, we hear more stories. They are real and frustrating - a community determined to survive and prevail, its struggle to collect seed funds to assure maximum viability and self-sufficiency by building a social hall, clinic and residence within the contiguous compound, administrative snags from local authorities, bureaucratic wrangling with the ministry in Belgrade… and a guarded hope – indeed, faith – that has sustained them through it all, and allowed them to carry on.