Page 4 of 7
Eastern Kosmet (Vaganis)
We are now heading east - towards the municipalities of Novo Brdo and Kosovska Kamenica. These are dominated by a nice, pastoral setting on a relatively mild, sloping verdant terrain. We pass by the prominently visible ruins of Novo Brdo - an important medieval city, the key silver mining center and money mint of medieval Serbia since 1326, all the way to its final surrender to the Ottomans in 1455.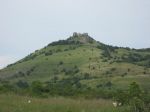 We continue on, through scarcely populated areas and less traveled roads, up a challenging dirt path that finally brings us to the next stop - the 14th c. church of The Holy Mother of God at Vaganis. Perched on a broad hilltop ridge with views partially obscured by lush woods, the seemingly secluded old monument complements the spiritual treasures inside with a radiant popular hope outward. We are greeted by a surprising sight of several men at work - local Serbs, apparently tidying up and cleaning the church grounds. It turns out they are preparing the site for the upcoming local feast, the second day of Pentecost - a traditional festival that gathers Christian folks from this general area. The workers are happy to take a break as our crew promptly sets up, and I strike a conversation with them over a few shots of the ubiquitous nectar plum brandy. They describe their relatively decent (compared to most other areas of the province) living experience in this remote corner, and wistfully point eastward, stressing how the 'administrative line' with inner Serbia, and the Serbian security forces' reassuring checkpoints on the other side of it, lie just 'beyond the second hill over there'. The leader of the project - actually, a Serbian high school teacher from nearby Kosovska Kamenica, here in the role of the traditional festival host - details the event context, and more.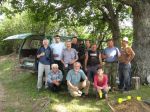 A self-styled researcher of South Serbian culture and history, he recognizes my last name as that of my paternal grandfather, a prominent figure from prewar Kumanovo. Having somewhat coincidentally brought a copy of his unpublished memoirs with me, I take the opportunity to read a key inspirational passage from it, detailing events from over 100 years ago. It is a challenge to stoke national pride with these folks without coming across as fomenting fake patriotism, but I feel the text hits the mark, for what it's worth at that moment... The teacher quickly reveals himself as a man both learned and of initiative - evident from his present organizational efforts, but also from a project to pool funds to buy out and retain properties of local Serbs considering emigration.
He then takes Meda and me for a walk along the grassy ridge, to 'see something special'. We arrive soon at a mud-and-straw hut, and meet its single resident, a 75-year old recluse with a traditional garb and sad blue eyes.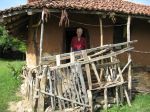 He invites us inside the shack, its austerity almost surreal, and matched only by what is to follow - he treats us to a short flute performance. Traditional yet personal, it takes him into a trance, a unique rural melancholy reflecting emotions of a tragic story - a single father that lost his only son... Unusual and moving. Finally, we say good-bye and return to the church, where our efficient crew has just completed its task. It is a far cry from the monumental walls of a Decani monastery or Gracanica that required multiple days of concerted team efforts. Nevertheless, the modest, often marginally preserved (and even less documented) 'lesser' medieval monuments in Kosmet - the focus of the present field trip, like the temple at Vaganis before us - continue to dot the landscape of the province, as silent and objective witnesses to a rich tradition and culture; recording them, analyzing and coalescing this valuable evidence is Blago's challenging task ahead. We bid farewell to our accidental sojourners at this remote site, wish them joyful Pentecostal festivities, vow to stay in touch...
Church in Temnica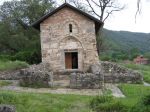 Our next stop is another smaller church, in the same general area, know as Temnica. Positioned at a local crossroads at the beginning of a shallow gorge, it resembles its Vaganis neighbor in outside appearance, but is adjoined by a reasonably preserved hillside cemetery overlooking the gorge. We find a local colocutor here as well - a middle aged man, predictably a former local factory worker - who provides security and maintenance around the site. Another human story, another mirror into the complex reality of the embattled Serb community in Kosmet. As a light rain begins to sprinkle, the technical part of the job is done, and we begin our long evening trek across the province, from the current eastern to its westernmost part, Metohija. We are to swing down a long swath across the southern tier of the province, passing through several towns, and making a couple of stops along the way.
Gnjilane
The first, technical business stop is in the urban locale of Gnjilane - we first weave our way through a bustling oriental-style market, its narrow streets seemingly devoid of any Serbian-language signs, finally arriving at a massive solid gate; soon, with a characteristic ritual conducted on our side by Sinisa, the gate opens and a capped short man, with an almost conspiratorial expression, signals our two vehicles in and closes up quickly closed behind us.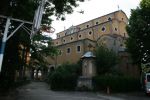 We are in the walled compound of the main Orthodox church in Gnjilane. The short fellow - the compound warden - greets us now with a more relaxed demeanor. The usual conversation ensues, we learn some basic facts of the local community. The compound serves as a sort of 'safe house' for Serbs to park for any business in town, and to perform other tasks - even washing and servicing vehicles - away from the prying eyes of hostile neighbors. We learn that the Serb population is now at 89 - a fact elucidated by the guard with the proud observation that this is 'one more than at last count' - a healthy baby boy was born into a Serb family just last week. He further shows around the church itself - an impressive edifice from 1861, with dignified 19th century iconography and interesting glasswork. It sustained limited damage in the years of the latest occupation, and we are shown several spots where Albanian vandals have tried to start a fire with Molotov cocktails. We continue through a series of towns, and along slow two-lane valley roads, headed for Velika Hoca - the final stop before we change vehicles and head for our final destination for the day, the Decani Monastery: Kosovska Kamenica, Urosevac, Stimlje. In the latter, the is a several-minute slowdown in town, with a procession of people crowding the road before we could proceed again. I later learn from Sinisa - who drove the other vehicle - that this was in fact a tense moment, even for his calm disposition.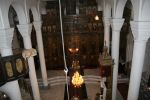 The event being marked was 'liberation day' - commemorating the entry of NATO troops to replace state security forces in accordance with the Kumanovo armistice, nine years earlier. The explosive potential of the context is clear - given our Belgrade license plates and despite assurances that the local Albanian populace was 'advised to lay low' in anticipation of the self-proclaimed constitution. There was something ironic in the fact that the procession appeared to descend from an intact-looking Orthodox church on the hilltop - perhaps its patron saint protected us, as there was no problem and we finally moved along...
Orahovac
We also get to briefly visit this ethnically mixed, and once predominantly Serbian town. The dwindling loyalist population - mainly Serbs and Roma - have, over successive waves of exodus, been relegated to a small ghetto at the top of the hill. We drive up there, without stopping. A perceptive eye can note the informal dividing line by examining the street and shop signs, but even more obvious is the pattern - by now all too familiar - of their characteristic austerity and neglect, as contrasted with the Albanian section with its bustling if chaotic markets, and with numerous new though incomplete houses. Eventually we made it to Velika Hoca after dark, swiftly relocated all our equipment to the van to be garaged there for the night, collectively crammed into the "safer" station wagon with Novi Pazar plates, and headed for the nearby Decani Monastery - our lodging destination for the night.