Born on January 9, 1856, Stevan Mokranjac was a music teacher at the First Belgrade Gimnasium and the Theological College, a collector of secular and sacred folk songs, and a writer of the first studies on these songs starting the musicology in Serbia. He was also one of the founders of the first string quartet of Serbia, Union of Signing Societies, as well as the director of the first Serbian School of Music. Finally, he was an outstanding choir master and a wonderful composer.
Mokranjac was praised and extolled, but his most famous works, the Song Wreaths, were met with polite reticence. Even though many say that the stimulus Mokranjac gave to Serbian music was more important than his compositions, many musicians who sing or listen to his works state that the true Mokranjac is exemplified in the Song Wreaths. Under Mokranjac's guidance, Serbian music has progressed immensely.
Mokranjac's music is also warmly accepted by those who are not professionals, but who love and enjoy music. No music of any other Serbian composer has managed to spread throughout the country, in towns and villages, as his did. Many folk songs would have been long forgotten had they not been preserved in the Song Wreaths.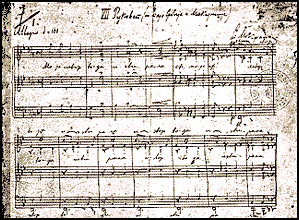 (The 7th Song Wreath, manuscript)
Mokranjac's Song Wreaths can be heard everywhere: at homes and schools, in trains and fields, and at weddings an outings. Simply, Mokranjac is beloved in this country as Smetana is in Bohemia. From the moment they were composed, Mokranjac's Song Wreaths played an important role in singing societies. Both large and small groups in Serbia and in other parts across the Sava and the Danube rivers began to learn and to sing the Song Wreaths with great enthusiasm during festive gatherings and choir performances.
In small and recently liberated Serbia, music was trying to rise with great difficulties. The first piano came to Serbia at the time when Haydn, Mozart, and Beethoven had already finished writing their symphonies in Vienna. Another two or three years had to go by before the first man with modest "musical training" came to this country. That first musician, Josip Slezinger, founded the "Prince's Band," turning with his hard work illiterate peasants into the first musicians able to read music. He wrote for his band marches based on common folk tunes. Josip Slezinger, from the very outset, pointed Serbian music in the right direction. Yet, because of a lack of Serbian composers, the first singing societies sang mainly German and Italian compositions, sometimes translated into Serbian.
At the beginning of the liberated state's life, the social structure of Serbian population consisted of a majority of peasants. A middle class began to appear in towns due to the development of trade and craftsmanship, and the first group of intellectuals appeared with the first state administration. During the eighties, when Mokranjac began his work, the middle class became aware of its strength and began to play its role in the life of both society and state, in politics, economics, as well as in the arts.
The old German or Italian songs disappeared from Serbian chorus groups and Kornelije Stankovic (1831-1865), during his brief sojourn in Serbia, wrote works for the first repertoire of Serbian choirs laying the foundations for "artistic" music. The musicians who came after Stankovic were Slavs, but not Serbs; the compositions they wrote were patriotic rather than national, affecting the audience with the fiery words of their poetry rather than with the familiar sounds of their music. It was necessary for a composer with genuine national feeling to appear, a composer thoroughly knowledgeable in folk music, both secular and sacred, to create a truly Serbian music.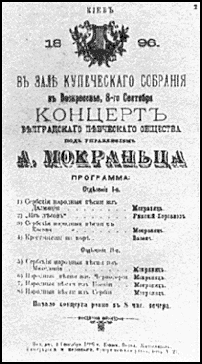 (Flyer for the concert in Kiev, 1896)
With his Song Wreaths, Mokranjac carried the beauty of folk music all over Serbia and even beyond its frontiers. The material for his Song Wreaths was gathered from all parts inhabited by southern Slavs; by performing his Song Wreaths, we contributed to the unity that tied these people together. Between years 1891 and 1899, Mokranjac and his choir went on tour every year, visiting towns in Serbia and in the parts under Austro Hungarian rule: Vrsac, Subotica, Sarajevo, Mostar, Dubrovnik, the Dalmatian towns of Split and Sibenik, to mention just a few.
Their tours also included Skoplje (then under Turkish rule) and the capital of Montenegro, Cetinje. These concerts were received with great enthusiasm, fostering national conscience and brotherhood among south Slavs of both the liberated Serbia and of those areas who were still under foreign rule. After a ten-year break, two more tours were organized: in 1910, and the last one, in 1911, on the eve of the Balkan wars, when concerts were given in Rijeka, Trieste and Zagreb.
Numerous tours took Mokranjac with his Singing Society abroad to Salonika, Budapest (1894), Sofia, Plovdiv, Constantinople, where they sang Serbian and Turkish songs (with Mokranjac's harmonization) at the Sultan's court (1895), to the Russian towns of St. Petersburg, Nizhny Novgorod, Moscow, and Kiev (1896).
A great western tour in 1899 included the renowned music centers such as Berlin, Dresden and Leipzig, which is a strong indication of the respect Mokranjac, his work, and his choir had won not only in their homeland, but also abroad.
Mokranjac took the beautiful word "Rukovet" from Serbian colloquial speech, to suggest the idea of a bouquet (a literal translation of rukovet), and of wild flowers with their vivid colors and scents. He gave this name to his compositions consisting of equally rich bouquets of beautiful and fresh folk songs. Thus, this word became a musical term designating a collection, or rhapsody of folk songs, arranged by a composer and linked together into a harmonious entity. (The term "song-wreath" was adopted in the English version as most appropriate.)
As a music form, Mokranjac's song-wreaths were preceded by others, such as, karisik, a collection of 'kolo' (reel) arrangements by Josif Marinkovic. In those collections, the songs, harmonized in an unskilled way and linked together almost at random, simply followed one another almost without any musical elaboration at all. Marinkovic's kolos had already become an art genre and musical form and were therefore taken up by Mokranjac as a model. He studied them thoroughly, learning to discern between the good and the bad in them. One could almost say that Mokranjac began to compose by emulating those kolos, but ended by improving his song wreaths.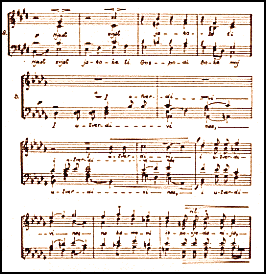 ("Opelo", Orthodox Requiem, 1888)
If examined closely, Mokranjac's work in church music far outweighs his achievements in secular music. One only needs to look at Mokranjac's biography to see that his work in church music is more plentiful and consumed more of his time than did his secular work. In parallel to the greatness of the tenth Song Wreath and the Goatherd, and to the Fifteenth, Fourteenth, and Eleventh Song Wreaths are some of his achievements in church music: "Heruvika" (the Cherubic hymn), "Tebje odjejuscago" (Joseph with Nicodemus took Thee down from the Tree), "Opelo" (the Orthodox equivalent to Requiem), and the Third, First and Second Stasis.
Overall, Mokranjac's works exemplify his commitment to church works. He collected about five hundred folk tunes and included only the most beautiful ones in his song wreaths, leaving a great number of songs unused and unpublished. However, in church music, he published three large volumes of music which contain nearly the complete Serbian folk chant. The amount of work necessary for such an achievement cannot be compared to his similar efforts in secular music. Bearing in mind practical real needs, Mokranjac arranged these songs in various levels of artistic elaboration, from modest harmonizations for three children's voices, to simple male choirs, and up to majestic works for mixed choirs � the highest achievements in this field, such as the "Opelo" (Requiem) and the "Liturgy".
Mokranjac's work with music, especially church music, can be classified into three groups. The first group includes his greatest job: collecting and writing down folk tunes sung in church and publishing annotated versions. By doing this, he encompassed nearly the whole huge body of Serbian folk chant. The second group consists of compositions based on tunes (such as the Liturgy). A separate, third group includes original compositions such as the hymns and canticles of the early "Opelo" (Requiem), the much later "Vjeruju" (I believe in God), and works in which Mokranjac started from folk chants and developed them with original material. He is inspired by the text of hymns and canticles, which is the case with a great number of his compositions, in particular with "Njest sviat" (O Lord my God, there is none holy as Thou) and the Requiem. He builds up a powerful gradation through imitations ranging from the bass up to the high soprano pitch, ending the position calmly, in low voice, with a developed cadence.
Mokranjac's secular and sacred music are an indivisible entity. We have to respect and love Mokranjac for his whole opus in the same way in which we look at the whole of Johann Sebasitan Bach, the great composer of both religious and secular music. Mokranjac's gradations in the Requiem canticle "Njest Sviat" (O Lord my God, there is none holy as Thou) are as powerful as those in the fifth Song Wreath ("Lele, Stano, mori"�"Woe to me, Stana, dear"); the superb harmonies of the "Heruvika" (Cherubic hymn) and of his Liturgy ("We who mystically represent the Cherubim") are matched with those of his Fourteenth Song-wreath ("I sing a sad song").