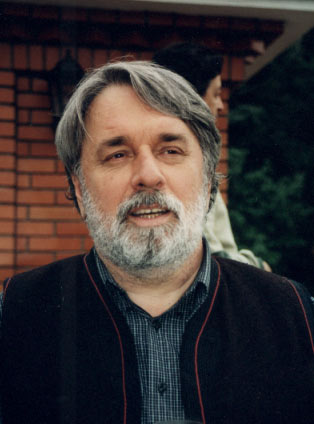 Dragoslav Pavle Aksentijevic was born in Belgrade in 1942. He graduated and acquired a Master's Degree from the University of Belgrade Academy of Sciences and Arts. His art is devoted exclusively to the icon-painting style inspired by the old Byzantine and Serb fresco-painting.
Apart from his icon and fresco-painting he is active in researching of the old spiritual music. The chants he interprets with "ison" based on "neumes" transcribes and on his own related to the living oral tradition are widely heard. Performances abroad: France, Austria, Germany, Greece, the USA, Russia, Finland, Hungary.
Awards
September 1988- the first award for the interpretation of byzantine melodies at the International choir festival in Kardica, Greece
January 1990- the only award at the International festival in Moscow
1989 - the award from the Fund For Culture Of the City Of Belgrade
1990 - the golden medal from the Serbian Society for Culture and Education
1990 - the award from radio Insbruck
2000 - anual award from the Serbian Association Of Music Artists
In 2000, Dragoslav Pavle Aksentijevic and four young musicians gather round a group "Zapis" (Inscription). The group's programme is based on secular melographic iscriptions originating from the areas of east and south Serbia and Kosmet.
The group uses authentic traditional instruments. It has five members who all perform spiritual music as well:
Dragoslav Pavle Aksentijevic- chanter, solist
Rastko Aksentijevic- string instruments, background vocalist
Bojan Ivkovic- percussion, background vocalist
Damnjan Aksentijevic- string instruments, background vocalist
Spasoje Tufegdzic- woodwind instruments, bagpipes, background vocalist
Music of Pavle Aksentijevic and Zapis
From the critique
"Human voice is a wonder, word cannot grasp it. Voice, that secret- both heard and unheard, passes through our existence through this llight, through the matter and breath of all the living beings. Whenever I listen to Pavle's voice a heavenly feeling is roused in me! It's a preciousness that brings to life the inscriptions of a forgotten tradition... He was that natural, self-made, beautiful tenor voice of a rare, clear chanting beauty, painted with ancient hailing."
Enriko Josif
"With his remarkable concert performances Aksentijevic presented himself as a serious researcher- the restorer of medieval sound. He chants with ease in a specific voice techique that these melodies demand with regard ti breath, intonation and melodious ornamentation. He wants to seize, as he himself says, 'the simplicity and beauty of chanting of a plain monk from Sveta Gora'".
Milena Pesic
"Pavle Aksentijevic is more real than if he came out of Hilandar at Atos".
Erve Lansio
"Your magnificent performance of Byzantine and Serbian psalms, made between 13th and 15thcentury, caused great interest in our public, and represents a big artistic event in the cultural life of Moscow."
Inokentij Popov